How small businesses can capitalize on the holiday shopping season | Small Business Marketing Tips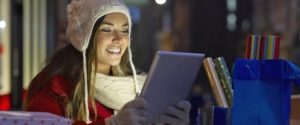 RC Website group offers small business marketing tips for entrepreneurs and small businesses owners because we know the holiday season offers an incredible opportunity to boost sales and increase your bottom line. Just like how the early bird gets the worm, starting holiday promotions early will position your business for optimum growth.  Polishing your online identity, optimizing marketing opportunities and engaging in positive customer relations are key strategies for boosting profits. It may be the season of red and green, but businesses that take advantage of these expert small business marketing tips will be better positioned to see a lot of numbers in the black.
Email marketing tips
The most essential step in creating effective holiday marketing emails is to start early. In fact, 2015 email data from GoDaddy shows that it's best for companies to get a head start on their email marketing campaigns as early as November. The days with the highest open rates before Christmas were during the first week of November, specifically Nov. 2. Even if those dates have passed, starting ASAP can help boost traffic and sales.
"Black Friday and Cyber Monday might seem like the perfect days to send promotional emails, but small businesses should proceed with caution," says Eric Gilbert, director of  GoDaddy Email Marketing. "With higher sending volume comes lower email open rates. Our advice to our customers is twofold. First, get a head start on your holiday campaigns by sending before the peak shopping days arrive. And second, be sure to write crisp, compelling subject lines to help stand out in the inbox."
In creating an effective email, consider providing valuable information and useful tips rather than straightforward sales copy.
Shab Sadeghi, founder of Shabbella, a lifestyle brand for women, uses GoDaddy Email Marketing to stay in touch with her customers throughout the holiday season. "I like to share style tips on how my customers can wear Shabbella products multiple ways throughout the season," says Sadeghi. "In the past, I've provided beautiful gift boxes with orders during the holidays. I love to give back to my customers, plus everyone loves gifts!"
Another way to increase email marketing efforts is to send personalized emails. Personalized emails improve click-through rates by 14 percent and conversion rates by 10 percent, according to Aberdeen Group.
Social media tips
Keeping active on popular social media platforms helps brands engage with their customers and influence purchasing decisions. What's more, 51 percent of people will use social media to get gift ideas, according to a statistica survey.
In addition to staying active, give your social efforts a holiday makeover with a few new strategies. For example, music is a huge part of how people interact during the holidays. Share popular holiday songs and encourage your audience to do the same.
Next, go for the emotional response.  Heartwarming stories of generosity, charity and creativity abound during this time of year and tend to get a lot of play on social media.
In addition, focus on the entertainment value over the sale. The holidays, while joyful, are often filled with stress. Giving your users a break from the madness with a funny holiday-themed image or video will help them associate your brand with more than just your product.
Finally, make social interactive. Respond in a timely manner to user questions and comments. It will help build your brand reputation and leave a positive impression on your audience.
Storefront and website tips
Whether customers are visiting in person or virtually via a website, you want to give them an easy-to-navigate
experience and plenty of purchasing options that meet their holiday shopping needs.
First, categorize items as gifts on your website. For example, "gifts for your husband" or "gifts for kids." Reflect this messaging in product copy and consider writing blogs that support gift ideas for specific audiences. Additionally, promote the upsell by offering packages of products and/or services in bundles.
Second, hire a web developer and graphic designer to spruce up your website to reflect the essence of the holidays. Alternatively, use a DIY website builder that's affordable and easy to use like GoDaddy. For physical stores, tasteful holiday decor can enhance the ambiance and get shoppers in a festive state of mind.
Finally, for brick-and-mortar purchases, consider offering complimentary gift wrapping. For online
purchases, provide free shipping when a certain amount is purchased.
With each day there's another opportunity to upgrade your holiday marketing strategies, but you must start now. With these tips, you'll have an edge on the competition.  To learn other ways how RC Website Group can help your small business, visit RC Website Group for more Small Business Marketing Tips
If you think our small business marketing tips or any of our other ideas could help your business, consult one of our RC Website Group's Marketing specialist. We would be happy to help you decide what is best for you.
Tags: Small Business Marketing,  Email Marketing, Social Media Marketing